Everyone is a little Irish on St. Patrick's Day: Top Spots to Get Your Fill of St Patrick's Day Craic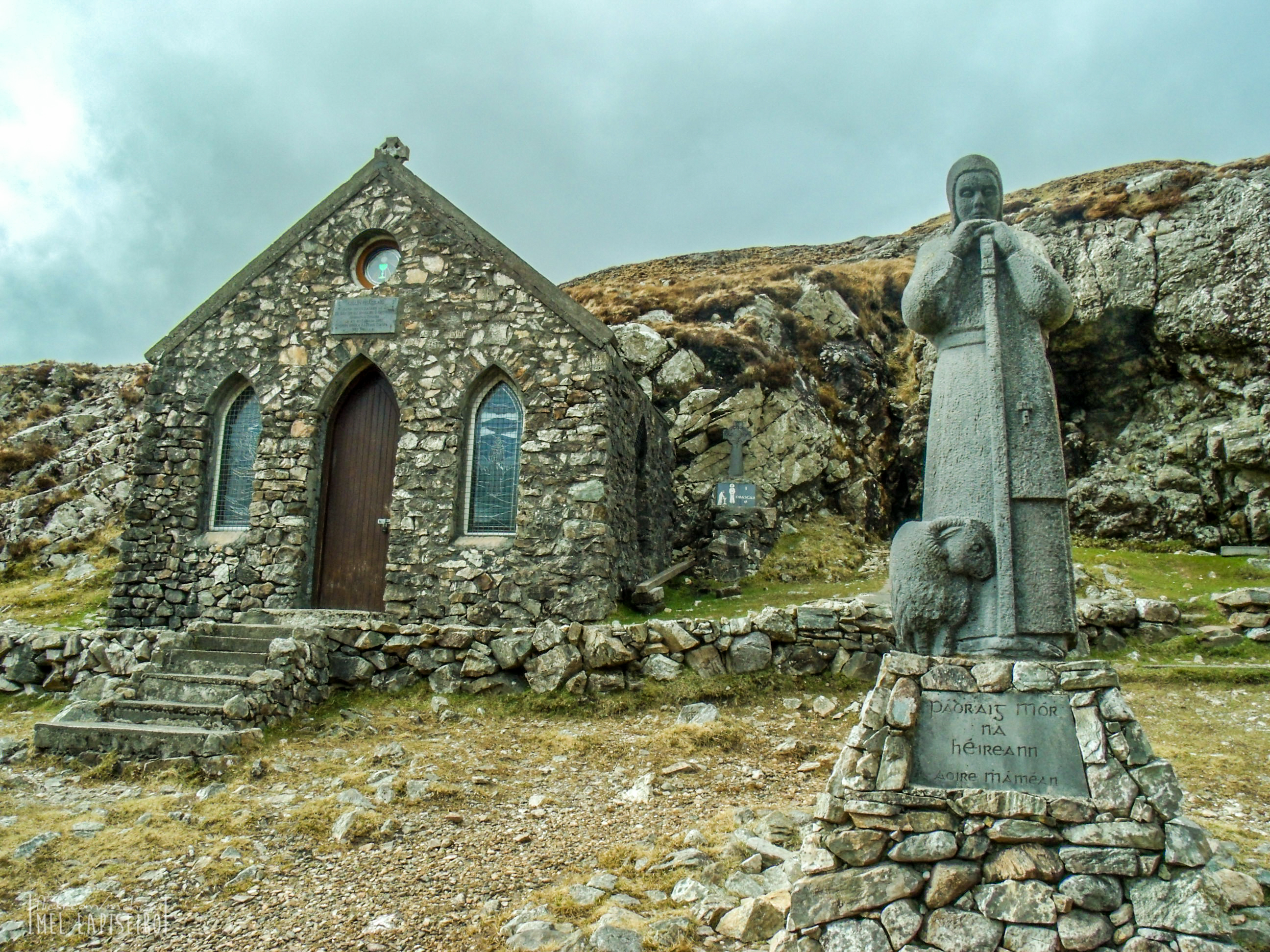 Photo Credit: Mel Lapiserio
St. Patrick's Day marks the death of the Patron Saint of Ireland who is credited with bringing Christianity to the land and driving the metaphorical druid snakes out of Ireland 1,500 years ago.  Legend attributes St. Patrick with branding the shamrock as a national symbol of Ireland.  According to Irish lore, St. Patrick used the Shamrock's three leaves to symbolize the Holy Trinity joined together in one corporal body when proselytizing to the pagans.  Shamrocks, mischievous, wish-granting leprechauns, pots of gold at the end of rainbows, Blarney Stone kisses and the gift of gab have all become synonymous with St. Patrick's Day.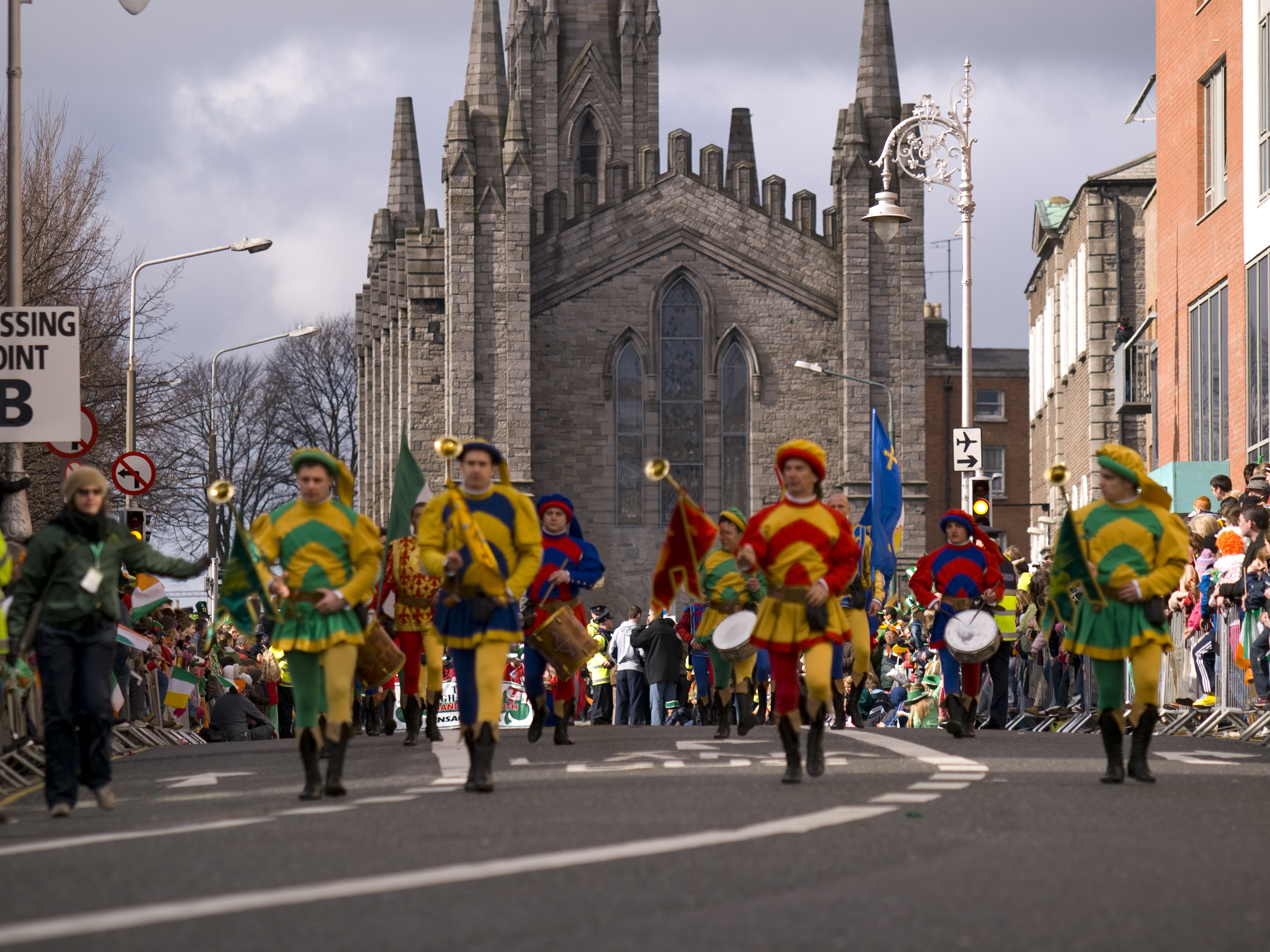 St. Patrick's Festival in Dublin, Ireland. Photo credit: Sebastian Dooris
Although Dublin is the undisputed Mecca of St. Patrick's Day celebrations, Boston has the distinction of hosting the New World's first St. Patrick's Day parade in 1737.  New York City followed suit in 1762 when homesick Irish soldiers stationed in colonial New York marched through the streets of modern-day lower Manhattan.  New York City's storied St. Patrick's Day celebration has morphed into the world's largest St. Paddy's Day parade with over 3 million people queuing up along Manhattan's tony Fifth Avenue.  Dublin, New York City, Chicago and Boston are renowned for their St. Patrick's Day festivities, however, leprechauns and green shamrocks are only a part of the celebrations for the Irish diaspora and the Irish du jour.  St. Patrick's Day has become the most celebrated national holiday in the world and unique spins on St. Patrick's Day revelries can be found.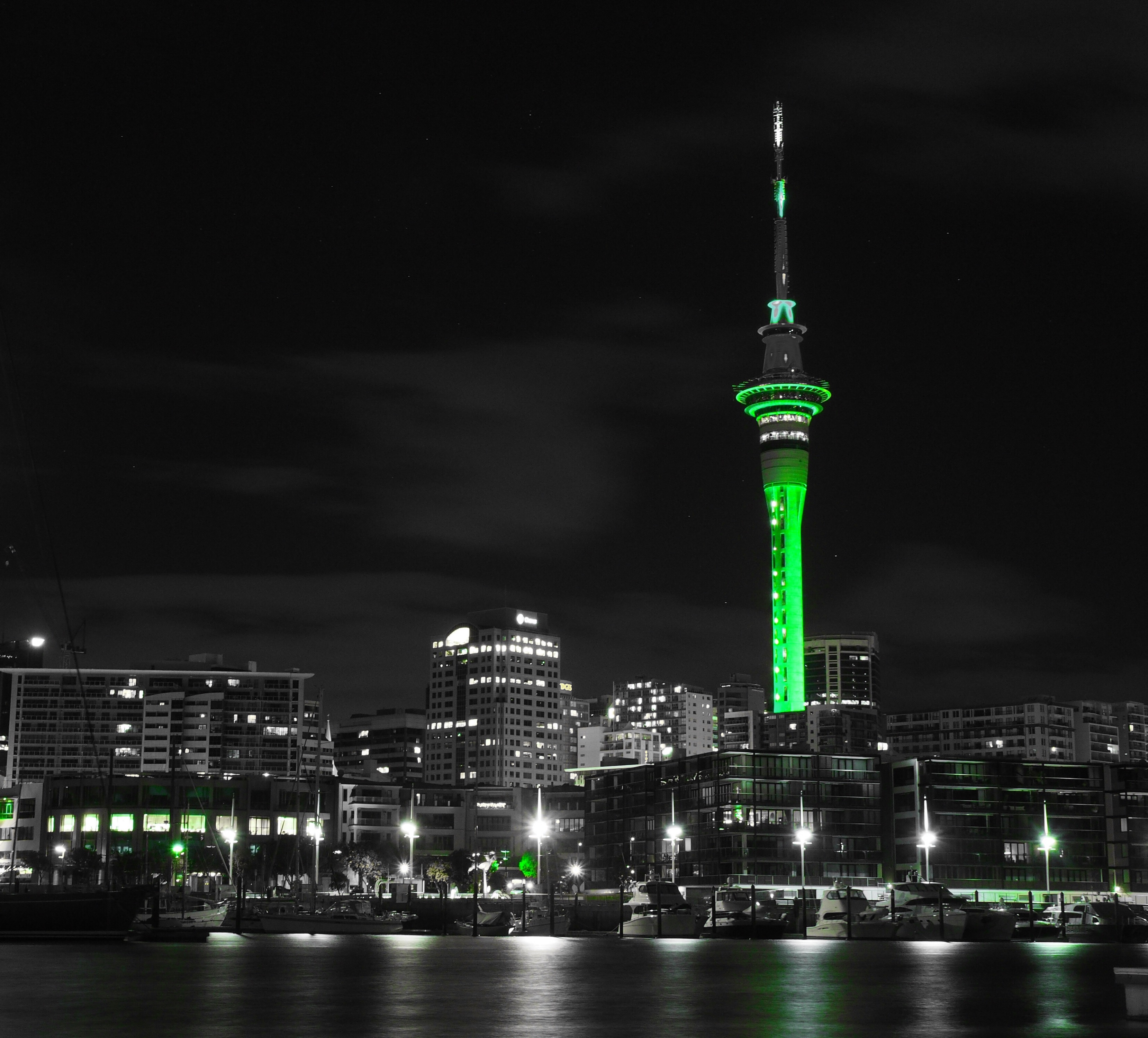 Auckland, New Zealand
Although it is located the farthest from the Irish motherland, Auckland is the first in the world to ring in St. Patrick's Day.  A St. Patrick's Day Fair complete with Gaelic Football and Irish comfort food and spirits competes with St. Patrick and Faerie Folk who enchant Kiwis during the parade.  The merriment continues with Irish dancing and music at the Fleadh.  A "Greening" party caps off the night when Auckland's 1,076-foot Sky Tower is illuminated in Kelly Green.
Hot Springs, Arkansas
Local Arkansans prove that the size of a celebration is not an indication of strength of spirit.  Hot Spring's St. Patrick's Day claim to fame is its parade that rolls on 98-foot long Bridge Street, said to be the "Shortest Street in the World".  The San Diego Chicken, Elvis impersonators, and the world's largest leprechaun are on hand to spread Southern Irish cheer.  A kissing contest is held to see who can pucker up and give the local Blarney Stone the most unique smooch with a cash prize awarded to the best kisser.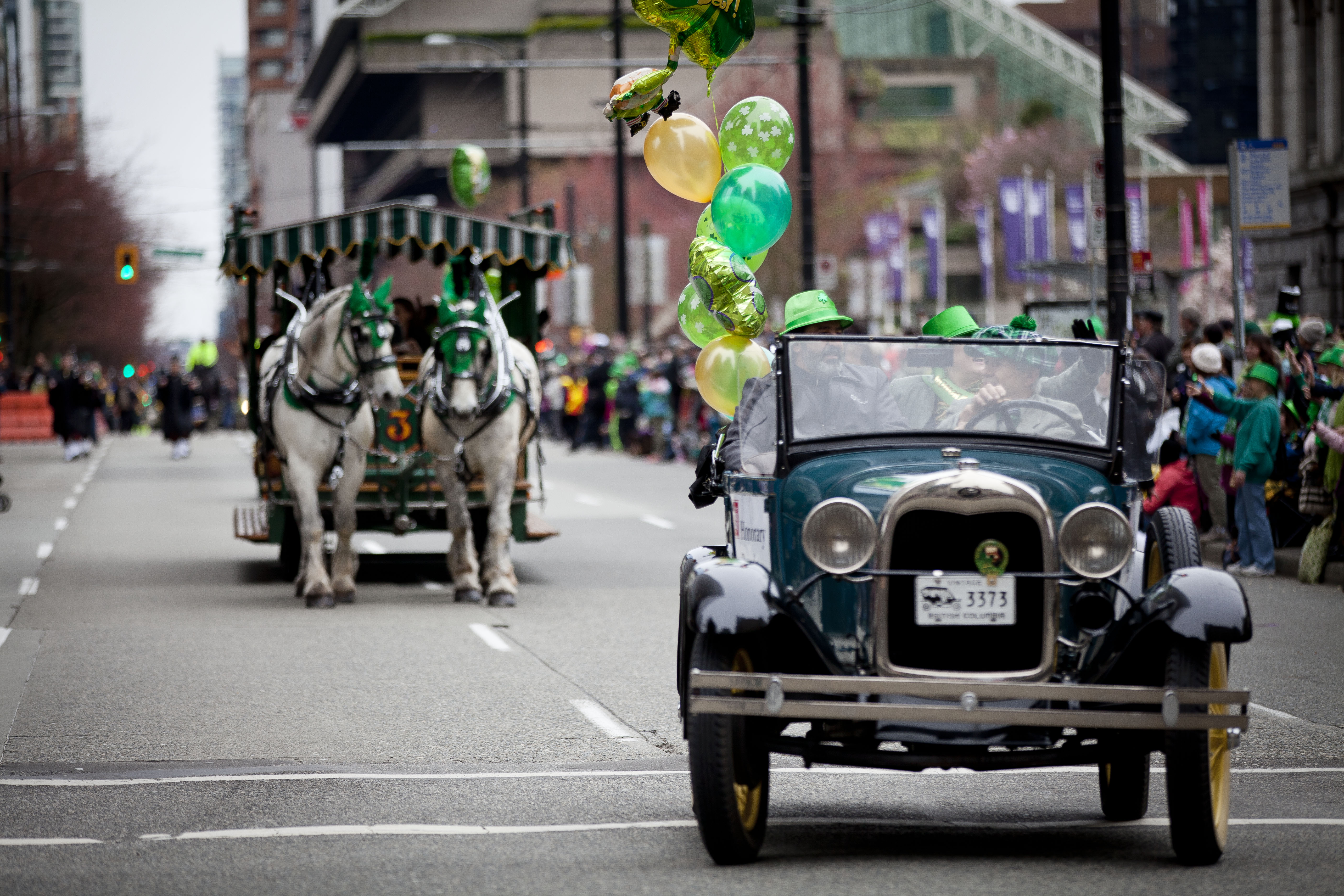 Photo Credit: GoToVan
O'Neill, Nebraska
The world's largest leprechaun may strut his stuff in Hot Springs, but O'Neil, Nebraska, the Celtic Capital of Nebraska, is home to the world's largest Shamrock, which can be found along the parade route at the intersection of Route 281 and Highway 20.  Dr. Seuss connoisseurs will be delighted to mangia on Green Eggs and Ham for breakfast.  In addition to traditional Gaelic gaiety, Nebraskans also display their athletic prowess with a dodgeball tournaments and St. Patrick's Day Run.
Montserrat
Montserrat, a tiny Caribbean paradise in the Leeward Islands of the Lesser Antilles, is known as the "Emerald Isle of the Caribbean".  Its moniker is derived as much from its geographical similitude to coastal Ireland as it is to its Irish roots.  During the 17th century Irish settlers were forced to relocate from neighboring St. Kitts and Nevis after anti-Catholic sentiments took hold. A green Shamrock passport stamp and a flag showcasing an Irish harp are testaments to the island's Celtic pride.  It is one of the only two nations outside of Ireland to inaugurate St. Patrick's Day as a national holiday.  Its week long St. Patrick's Day festival serves as a tribute to its Irish Catholic heritage and the ill-fated slave revolt of March 17, 1768.  Highlights of the jubilee include African and Irish musical performances, cricket matches, a "Catch the Mermaid" Treasure Hunt, a masquerade ball, and a Freedom Run, which marks the emancipation of both Irish indentured servants and African slaves.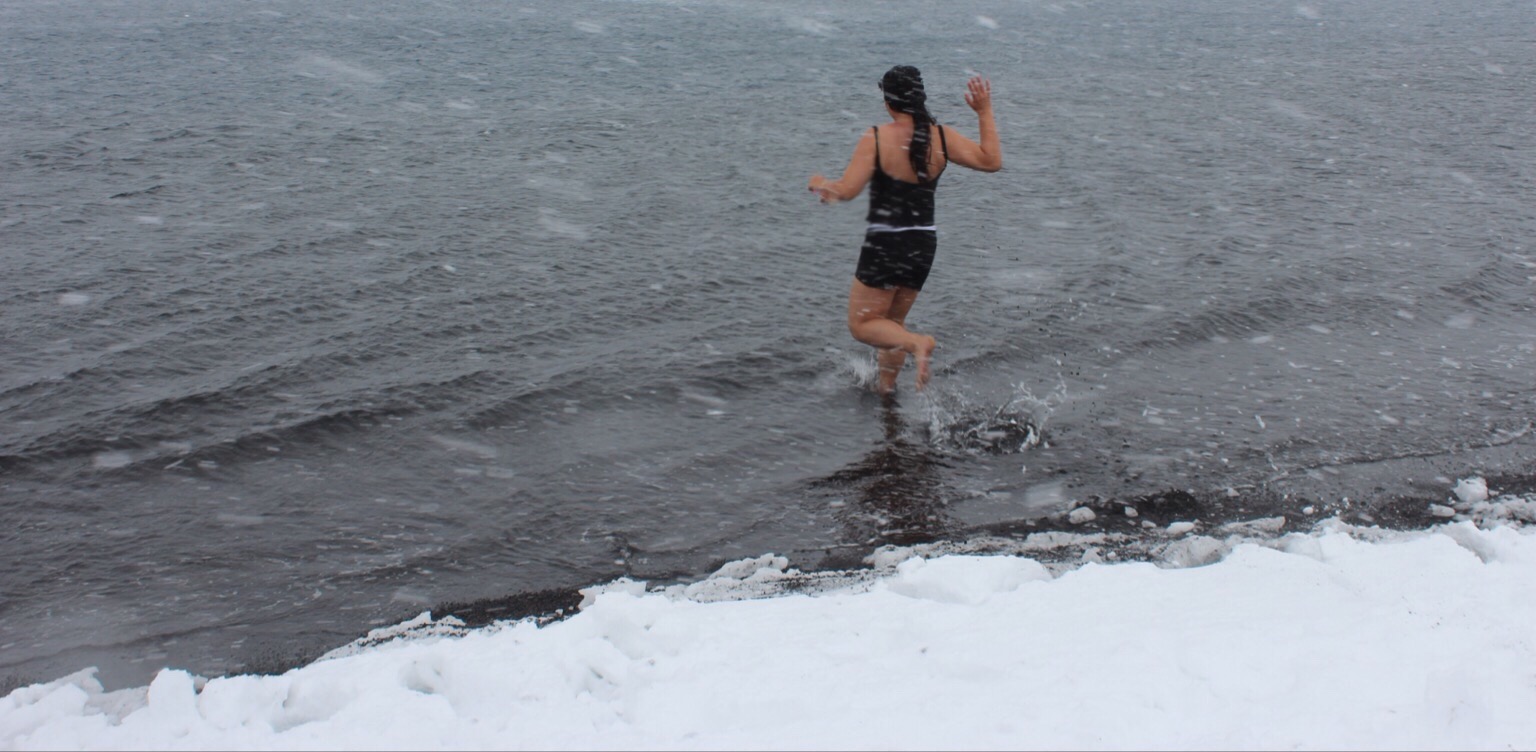 Portland, Maine
For those who may have failed to work up the courage or were otherwise unable to participate on New Year's Day, Portland offers brave adventurers the chance to dive into St. Paddy's Day.  Daredevils will have the chance to tempt hypothermia with a St. Patrick's Day polar plunge in the brisk Atlantic Ocean.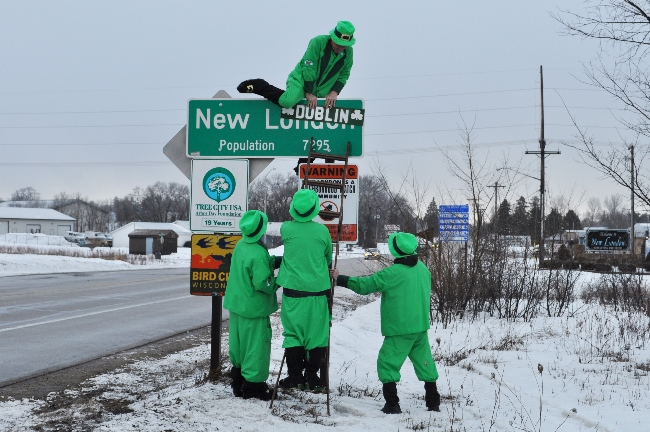 New London, Wisconsin
Local residents may be decked out in green to prevent any frisky leprechaun from pinching them, they cannot avoid the antics of the Shamrock Club's members.  After fueling up on corned beef and cabbage, self-anointed Leprechauns for the day, surreptitiously change highway signs to read New Dublin. The newly minted signs help guide the mourners to Finnegan's "Irish Wake", which is held during the parade.  Irish carolers visit senior centers and hospitals to balance out the impish pranksters.
Wherever you may be this St. Patrick's Day and however you choose to celebrate, World Traveler wishes you a Happy St. Patrick's Day and bestows upon you an Old Irish Blessing: 
May love and laughter light your days,
and warm your heart and home.
May good and faithful friends be yours,
wherever you may roam.
May peace and plenty bless your world
with joy that long endures.
May all life's passing seasons
bring the best to you and yours!