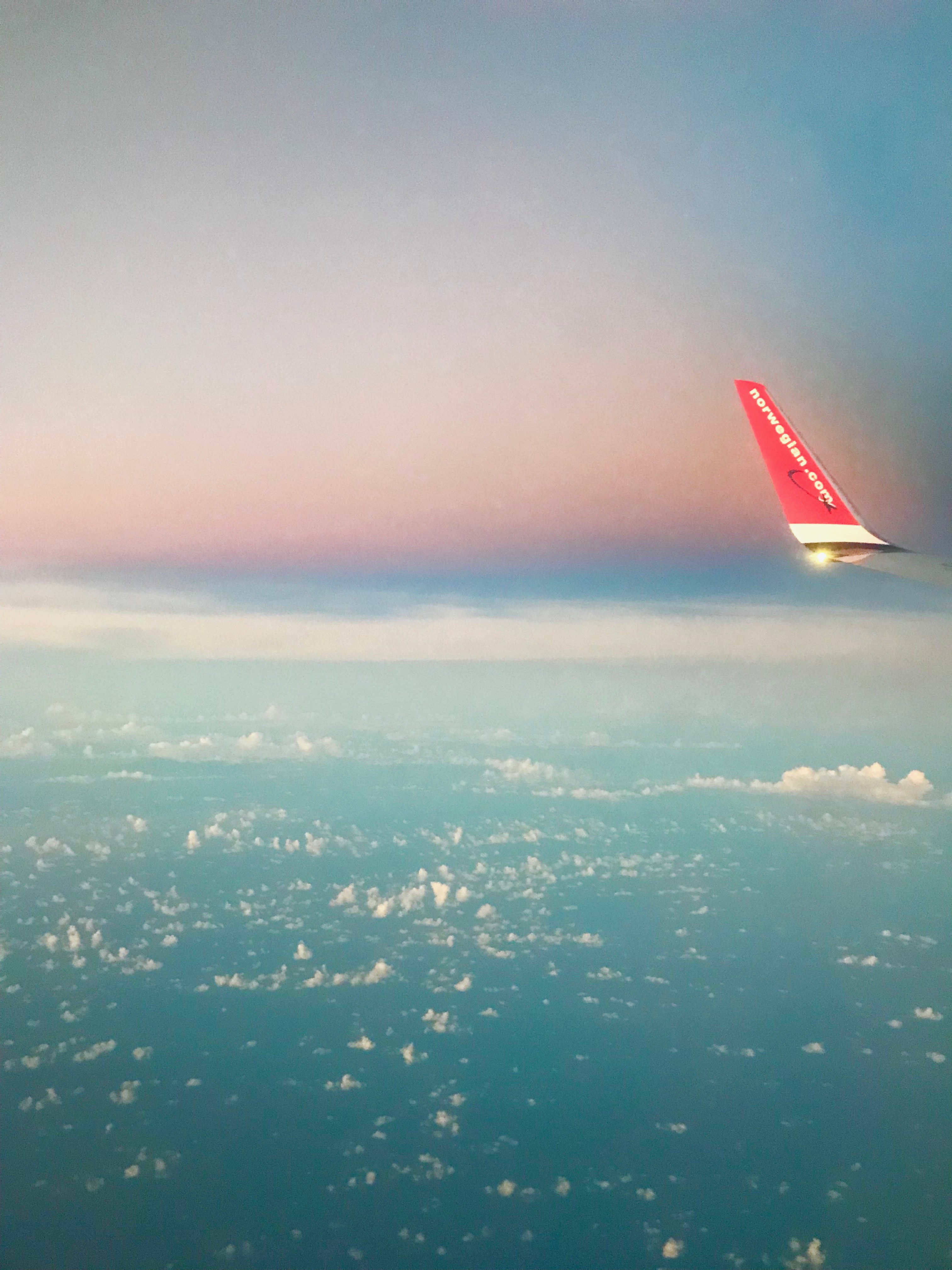 Norwegian Air, Europe's third largest budget airline, offers gently priced airfare from New York City to Martinique and Guadeloupe in the French Caribbean. World Travelures who forego checked baggage and preflight seat selection can snag fares as low as $59 one way for direct flights from New York City.  Those who are not members of the carry-on-only crowd, should prepay for these options.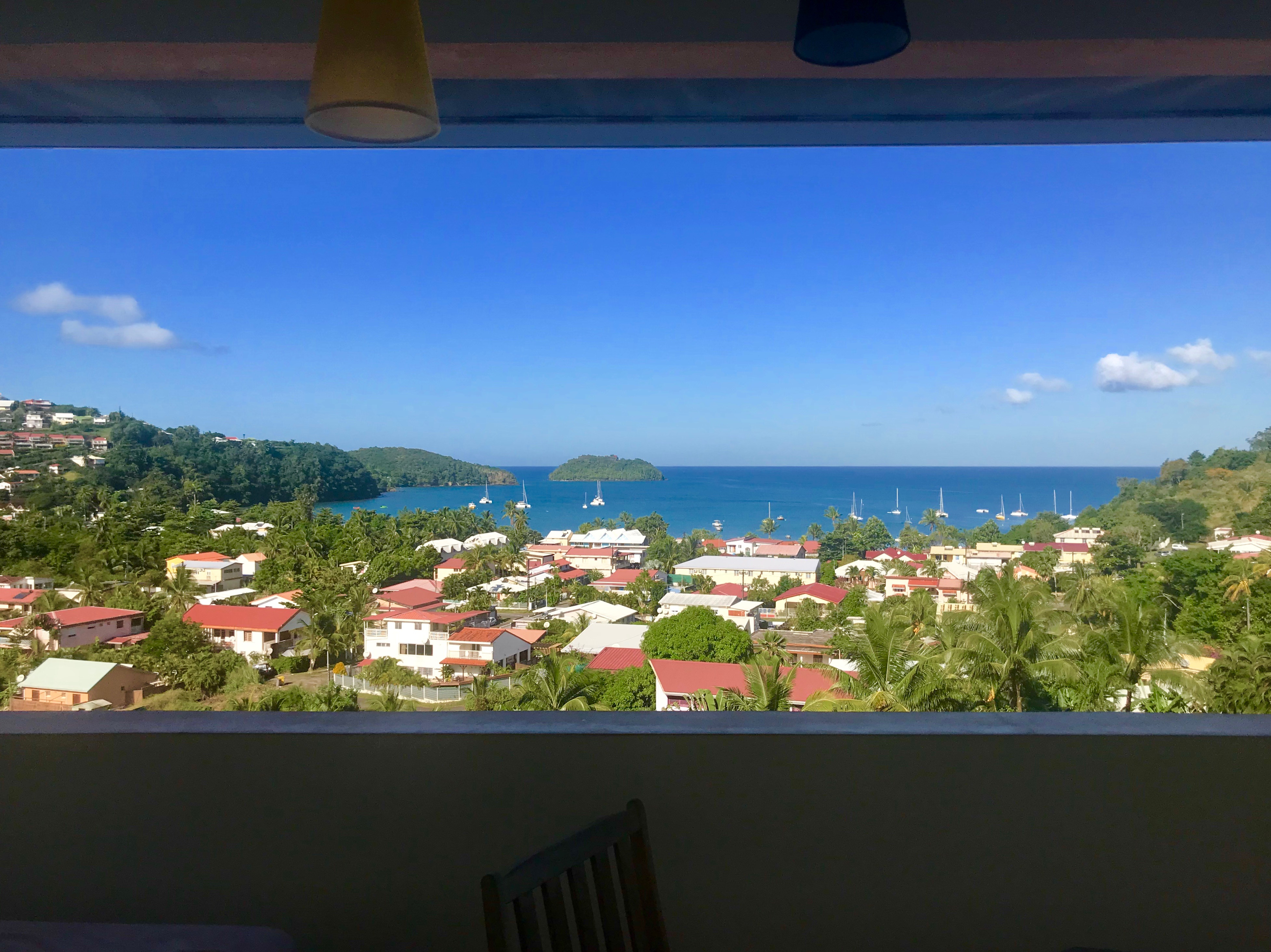 Martinique, located in the Lesser Antilles in the eastern Caribbean Sea, is a fusion between French and West Indian culture.  To explore the island, a rental car is essential as public transportation is scarce. Deals on rental cars can be found via Auto Europe, especially for cars with manual transmissions.  Although Martinique is a small island, being centrally located is key for short sojourns on this idyllic Gallic isle.
Airbnb is prevalent throughout the island, which means that accommodations with pools or with close proximity to the beach are available for under $100/night.  For a Bungalow with a Gauguin vibe, Airnbnb's super host Benoit is votre maison parfait.  Surrounded by tropical vegetation and frequented by hummingbirds, Benoit's property is located only five minutes from the airport.  With 24 hours advanced notice, Benoit will arrange a three course home cooked creole meal for 25 € per person.  Wine service is available for an additional 20 € surcharge.
Husband and wife duo, William and Raphaele, who live on the property, hosts guests in a private 
cottage
 which sleeps two.  The cottage, nestled in a hillside neighborhood, provides a tranquil respite from your everyday life.  Raphaele offers private or group yoga classes to help you achieve island zen.  A peaceful garden, private pool, and nearby in-town dining options will also help perfect your island holiday.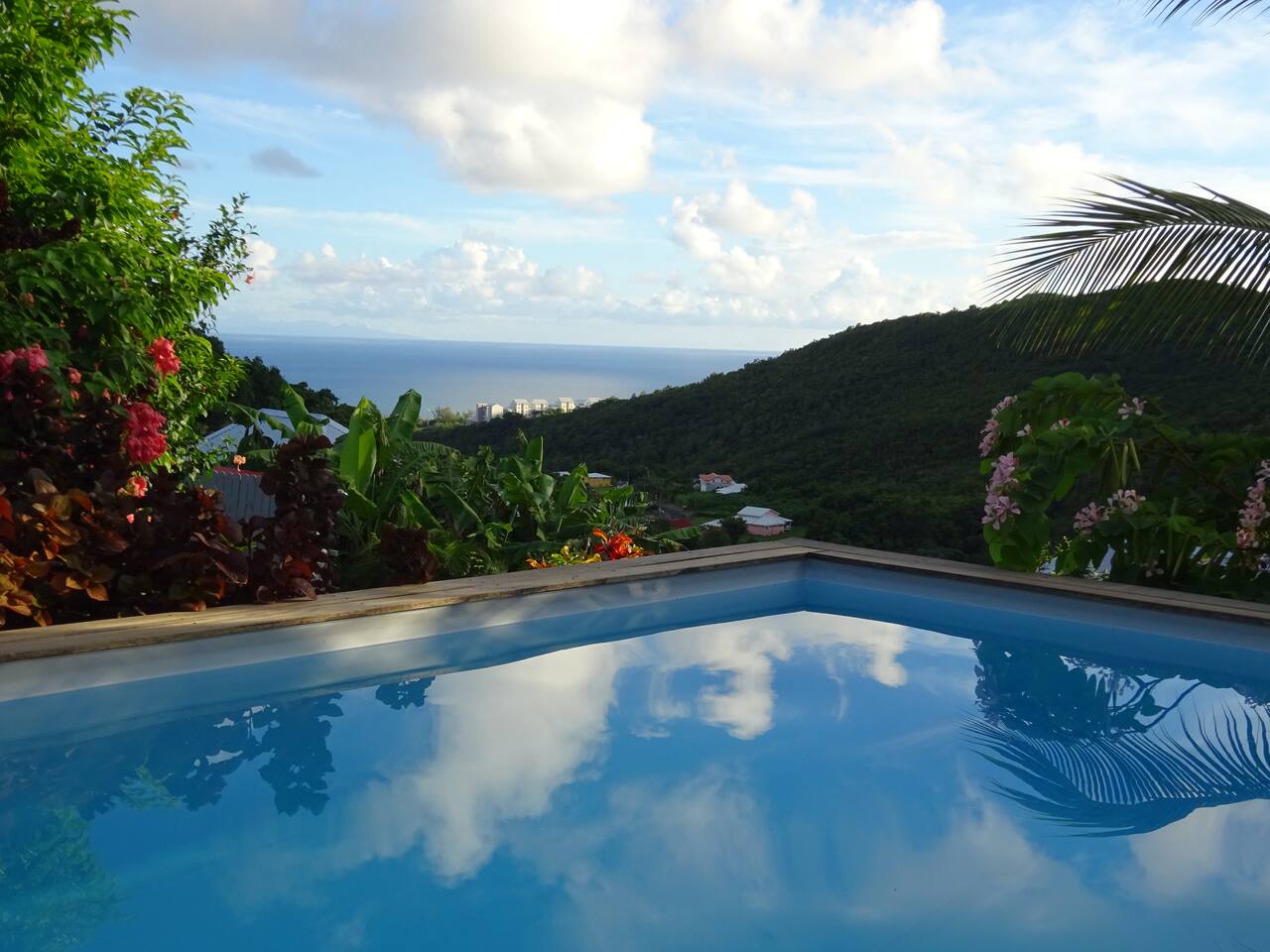 This colorful, quite abode is a short, scenic walk to the center of Saint Anne village and to a local beach dotted with Palapas.  A small garden, patio, and outdoor kitchen provides a fun island spin on al fresco dining.
A panoramic view of Le Rocher du Diamant, the famous rock, is always on offer.  On a clear day St. Lucia and St. Vincent may also be visible from the perch of your beachfront balcony.  Hostess Lucie offers complimentary masks and snorkel for those wishing to explore the water for sea turtles.  Beach towels and a beach umbrella are also available for your day at the beach.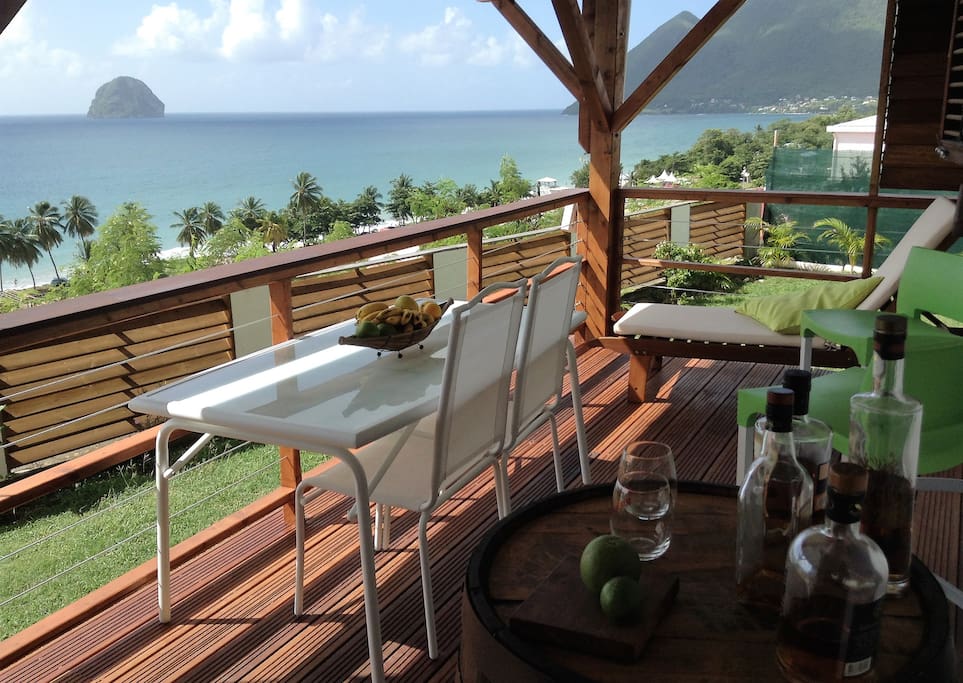 For $74 a night, an unique option can be had by staying on a boat on the Bay of Marin, located behind Club Med.  Speak with the owners to arrange a sunset cruises.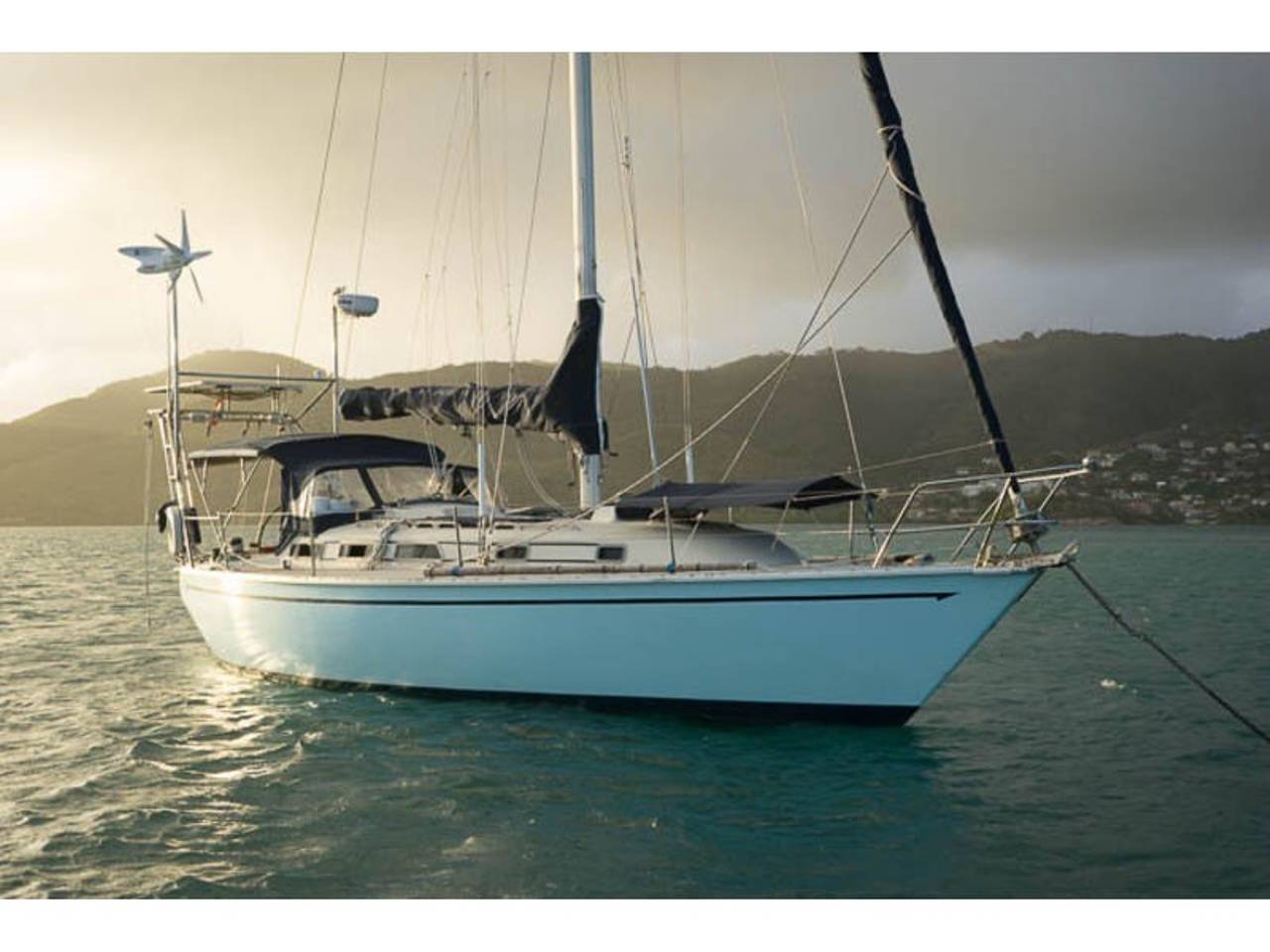 Sun and Cultural Martinique
Petite Anse, which means little cove, is located just south of Anse d'Arlet.  This small fishing village set admits well preserved French colonial architecture embodies laidback island life.  With a kaleidoscope of vibrantly painted creole homes, Petite Anse appears to have been plucked from the glossy pages of a guidebook.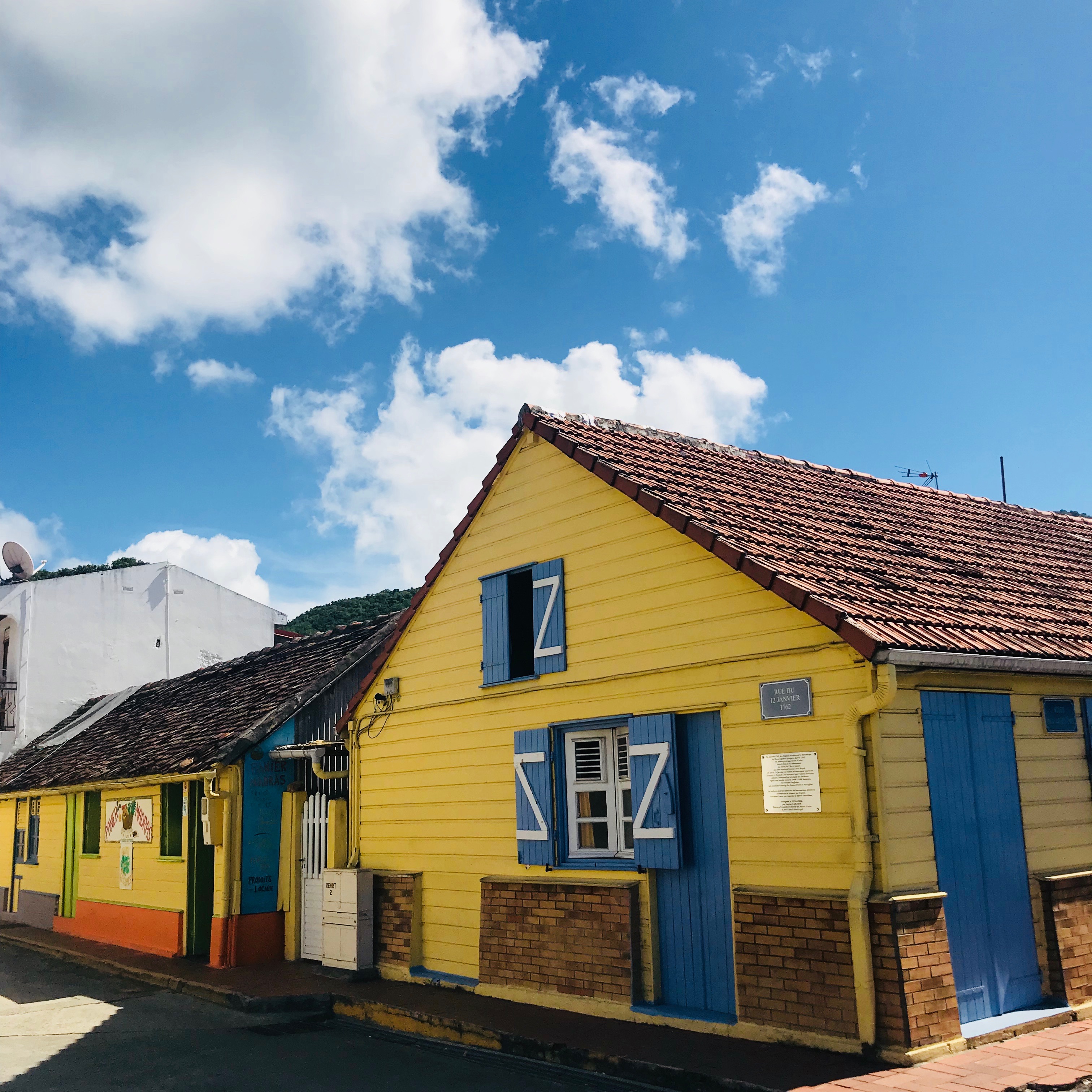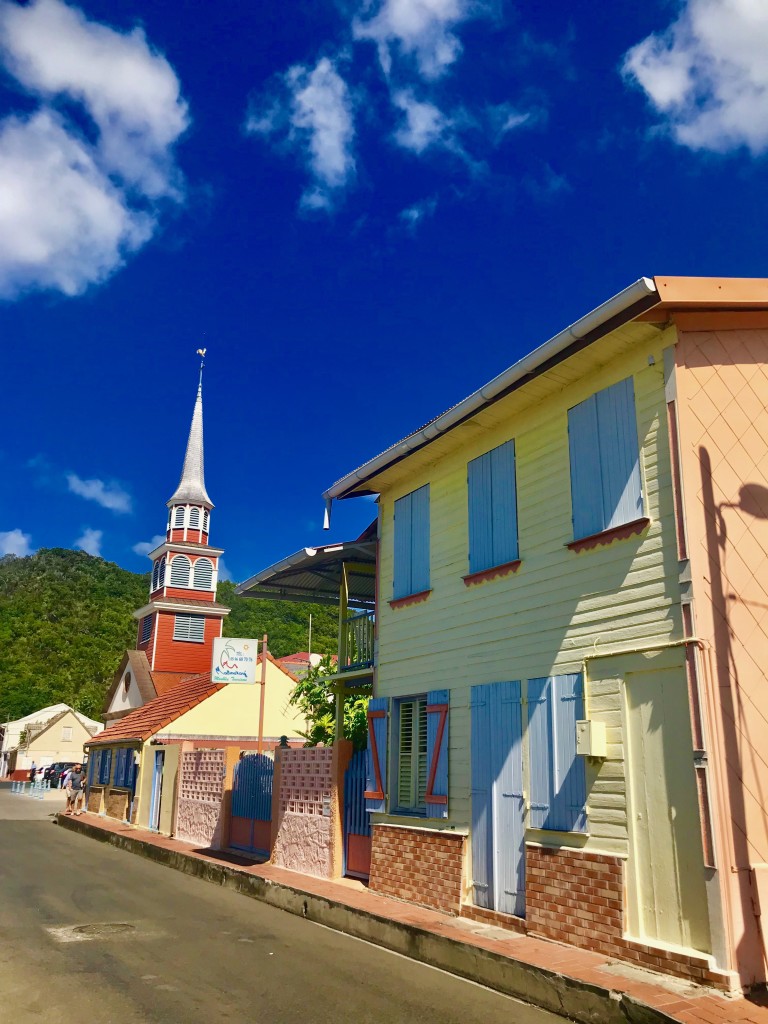 Shop along the promenade on main street or stroll through town to snap postcard quality shots of creole life.
Visit the Church of Saint Henri, an 18th-century seaside Roman Catholic church, and one of the most photographed buildings in Martinique.  The restored church was once destroyed during an attack by the English in 1762 and also suffered hurricane damage in 2007.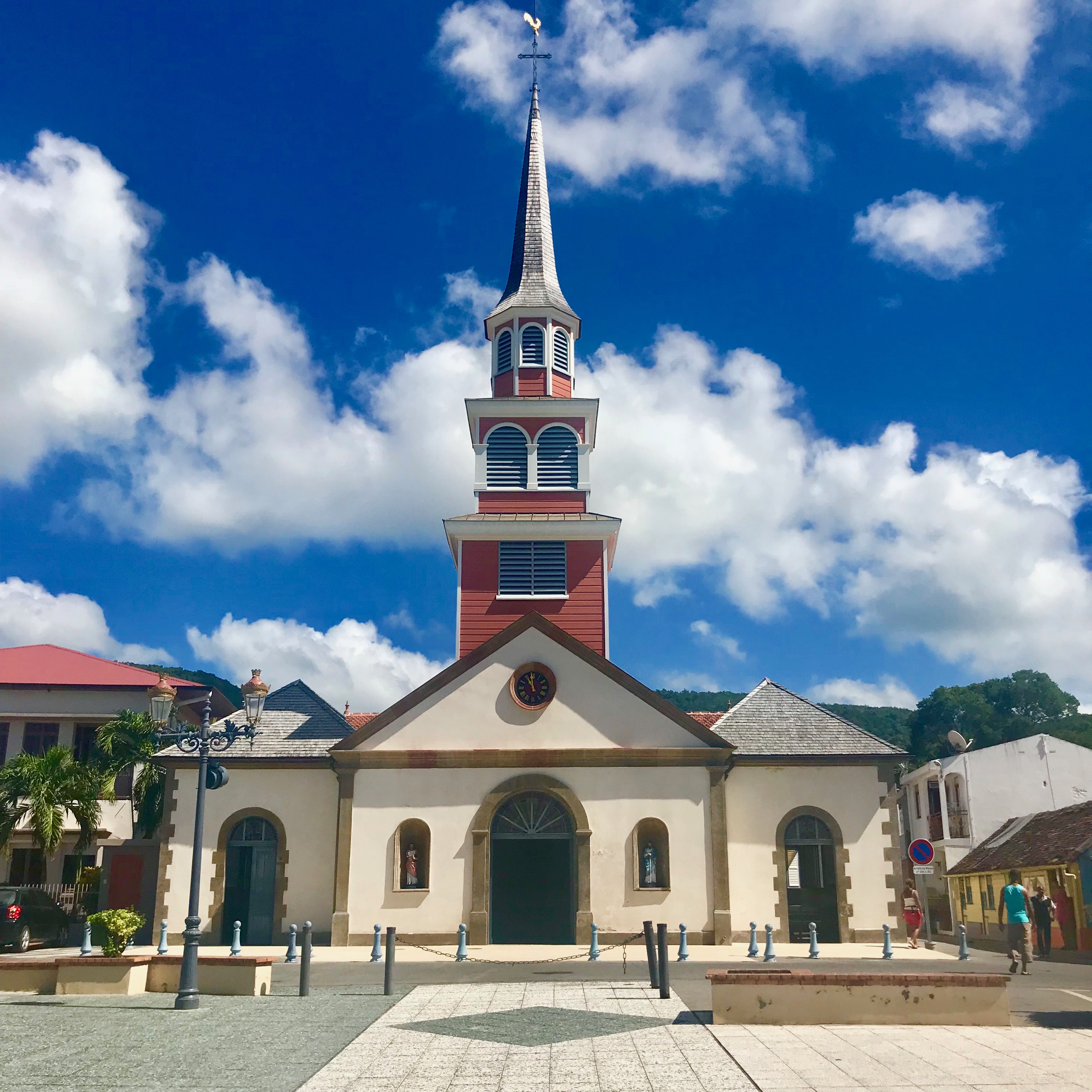 Saint Henri is steps from the ocean and the pier stretches directly to the church.  The stretch of beach offers calm waters and a view of Morne Jacqueline.  Wade in waist deep water or sit on the dock and gaze into the translucent water and watch fish swim just below the water's surface.  Arrive early, especially on the weekend, to pick your prime waterfront towel spot.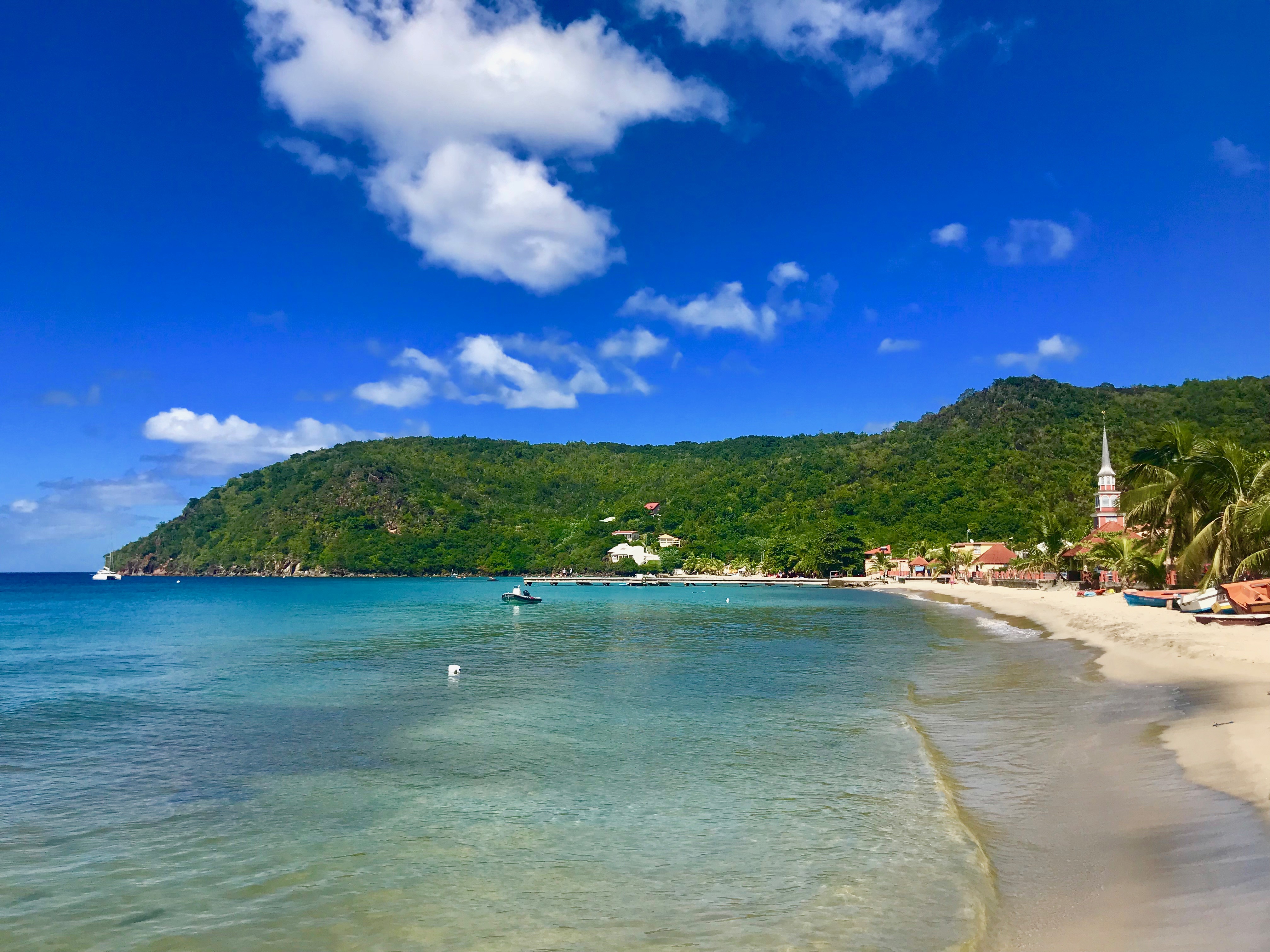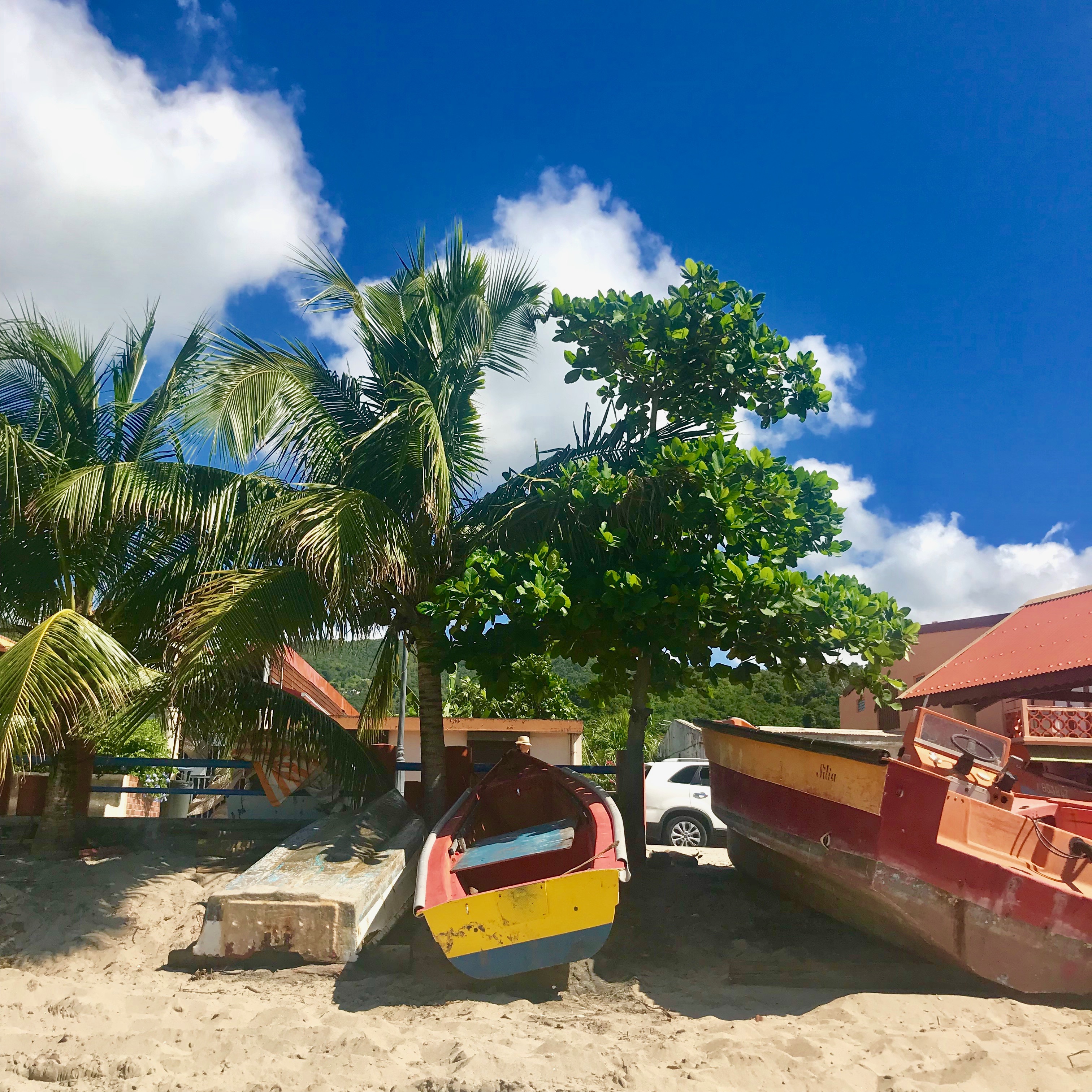 For a break from the sun, dine at one of the beachside cafes, restaurants, and boulangeries where you can watch the fishermen return with their daily catch.
Once you've had your fill of the rays, continue along the D37 to Le Rocher du Diamant, the famous rock that juts 175 meters out of the Caribbean sea. Le Diamant was once used as an English fortress during the Napoleonic wars with soldiers living in caves on the island.  The rock was commissioned the HMS Diamond Rock and the British placed cannons on top of the rock.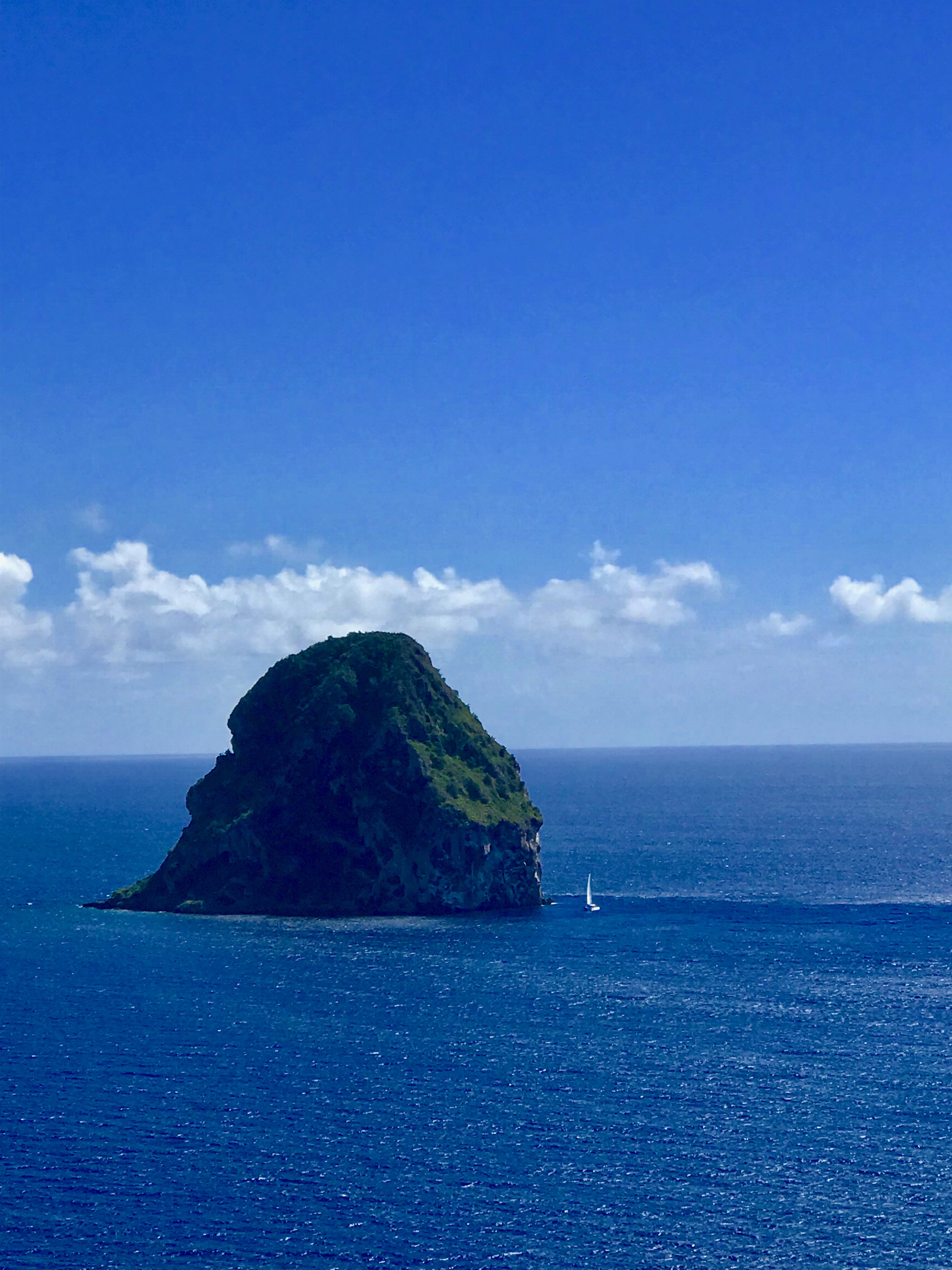 This volcanic island is rich with treasures below the surface.  A triangular underwater cave that is brimming with sea fans and abundant coral life traverses the island makes this a popular dive site for experienced divers.  Boat operators will organize excursions for an up-close view of the island. This uninhabited island now serves as a refuge for the couresse grass snake, which was once thought to be extinct.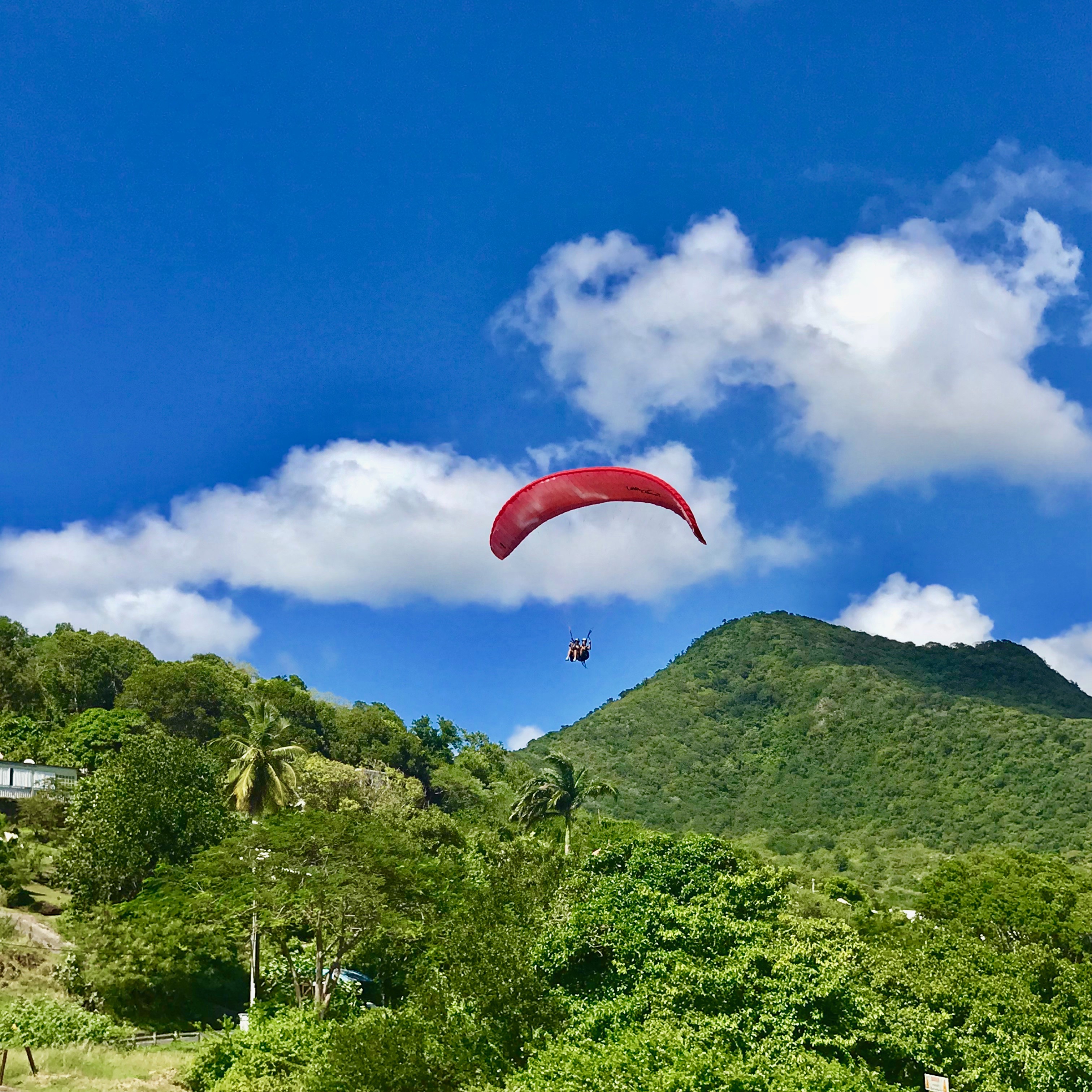 The adventurous traveler may wish to book a paragliding session near Le Diamant.  The uninitiated can experience the thrill of soaring in the sky with an inaugural tandem "Baptêmes de parapente."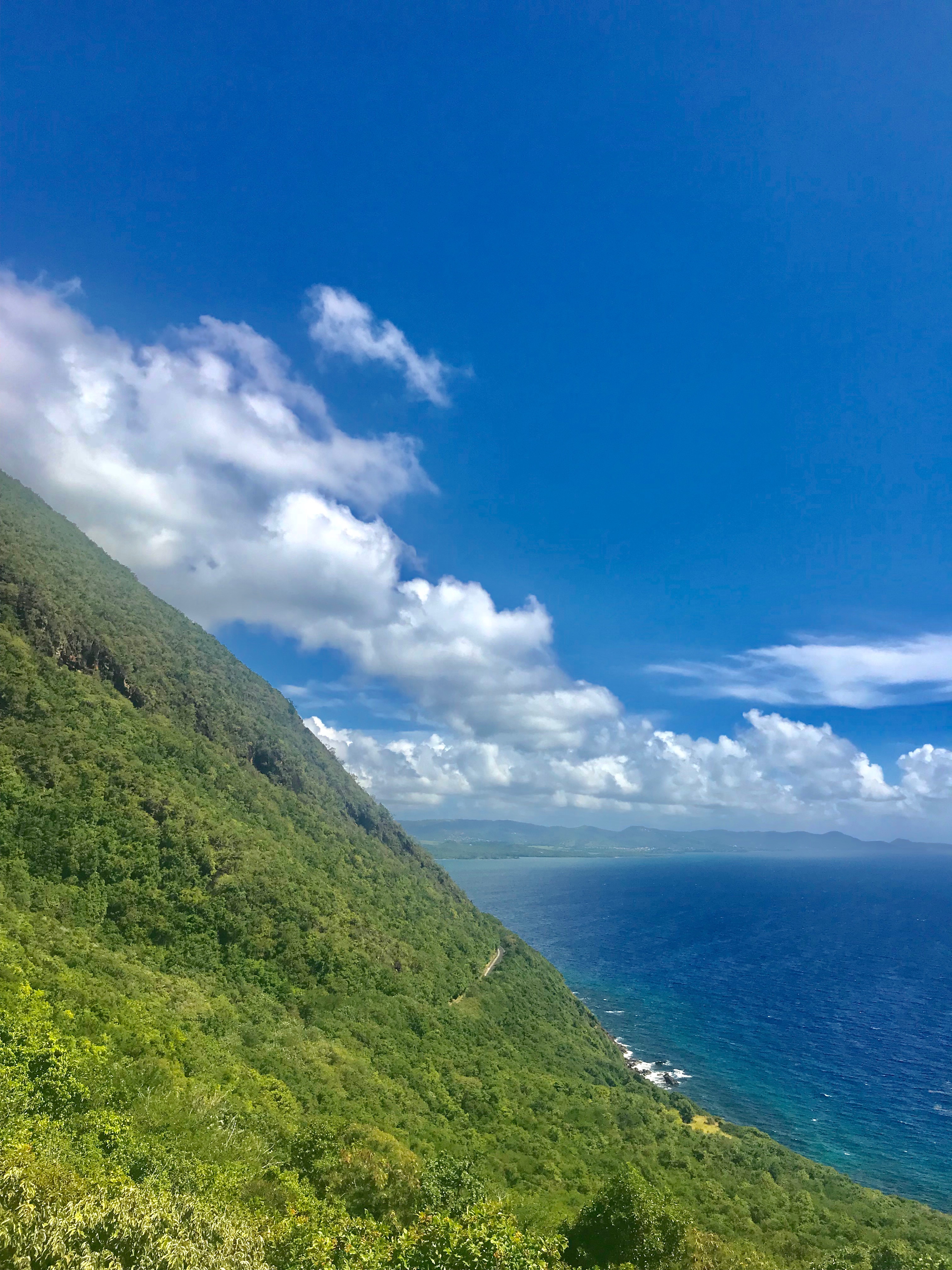 Whether you choose to take flight or keep your feet on terra firma, visit Cap 110, a slavery memorial located along the road overlooking Anse Caffard.  This group of 15 white statutes with their faces cast downward to the ground are situated in a triangle.  The statutes face the Gulf of Guinea where many of the slaves set sail for the triangular slave trade between Europe, Africa, and the Americas over the course of three hundred years.  The memorial's location was selected as it sits on a cliff overlooking the site of a deadly shipwreck which occurred on April 8, 1830 when a vessel carrying 300 slaves ran aground a reef and smashed the boat to pieces.  Slavery had already been abolished at the time the shipwreck occurred.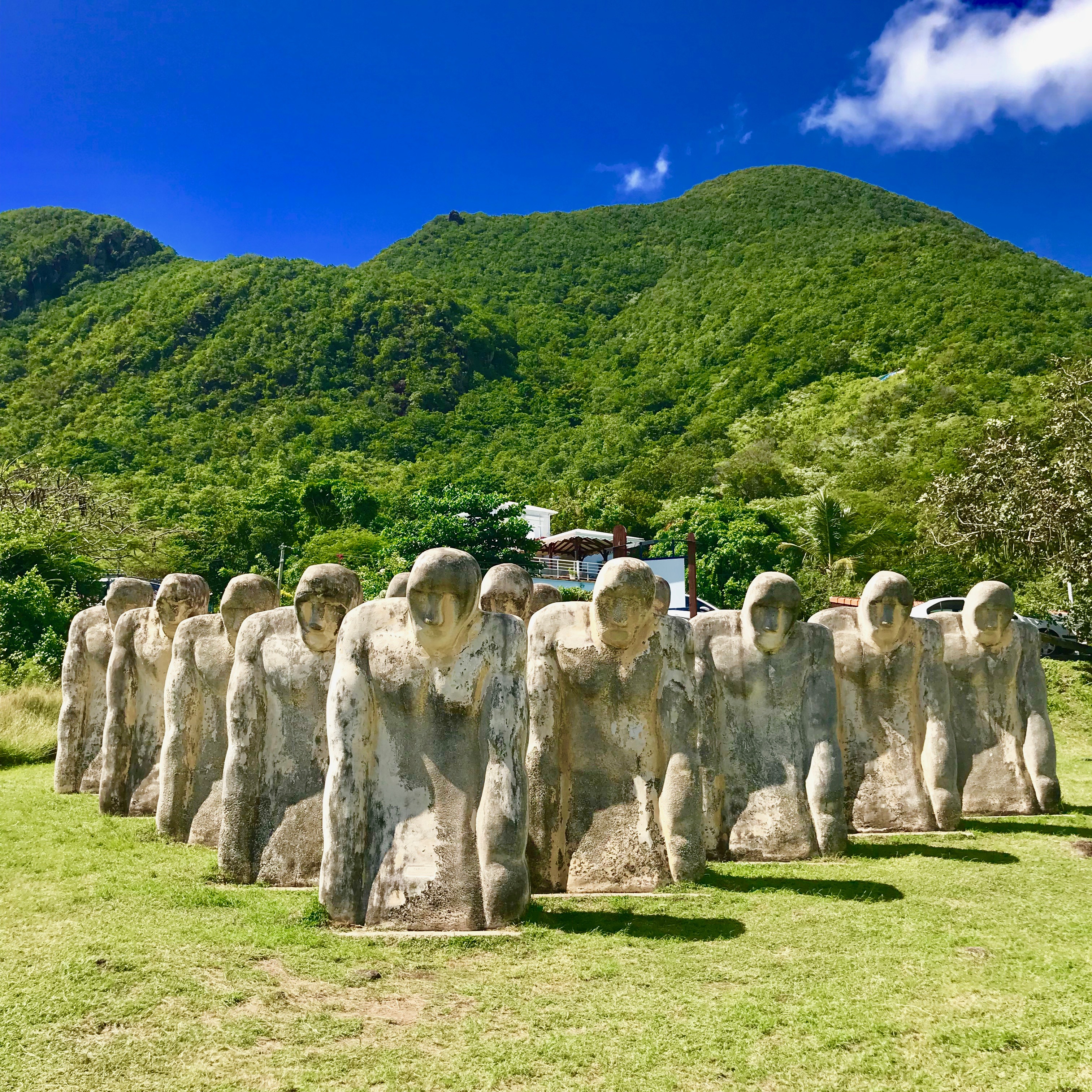 With tranquil see-through waters that stretch along a mile along a band of undeveloped sandy beach, Les Salines beach near the village of Sainte-Anne is why you come to Martinique.

 
Crooked palm trees and lush vegetation provides natural shade on this unspoiled coastline.
Grab a freshly squeezed fruit juice at Chez Oliver before indulging in a beachside massages.
Perhaps rum therapy may provide you with the liquid courage to navigate your negotiations in French for whimsical souvenirs.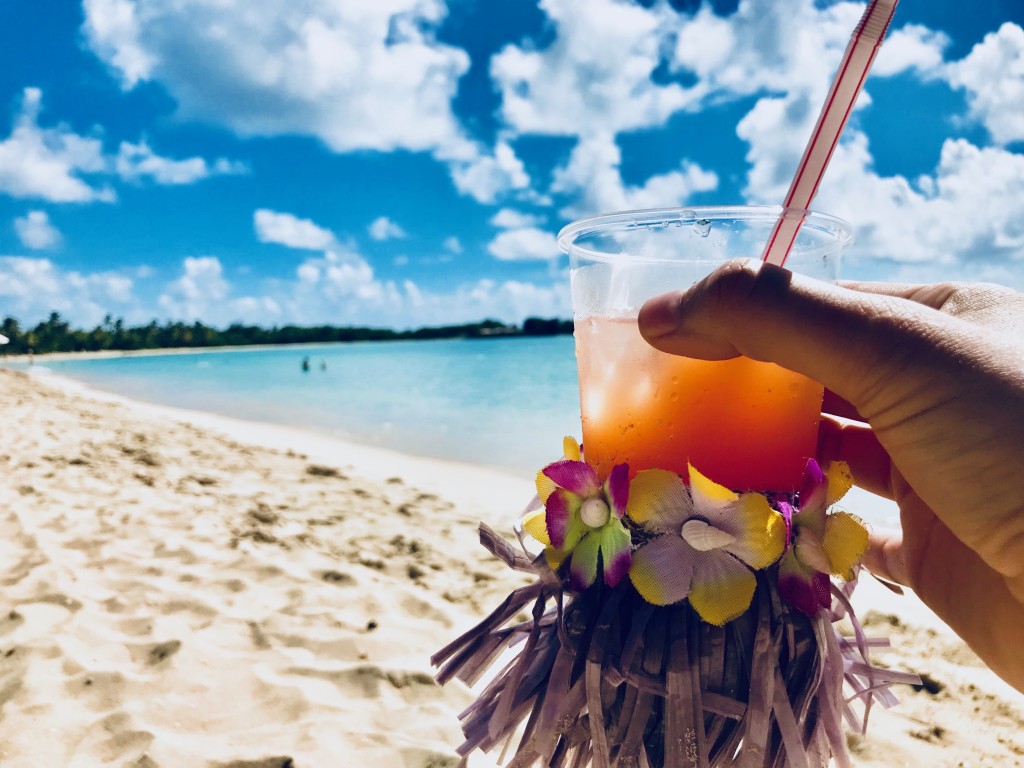 This rustic slice of Martinique is not lacking in culinary options as lolos, local food shacks, located just behind the beach serves up fresh seafood meals for under 15 euros.
You may be tempted to stay at the beach until the cows come home, but leave while it's still light out.  Street lights are uncommon on the island and while the roads are in good condition, driving in the dark, along winding roads may prove challenging.
Martinique's Natural Wonders
Rise and shine.  It's time to hike Mont Pelée, an active volcano which towers 1,397m high.  There are various hiking trails to match most fitness levels.  An early start will provide the best opportunity of having views unrestricted by cloud cover.
On May 8, 1902 Mont Pelée erupted, killing its 30,000 residents of Saint Pierre.  The eruption transformed the town which was once known as the Paris of the Caribbean into the Pompeii of the Caribbean.
The city of Saint-Pierre, just before its complete destruction (Public Domain).
Cap off the day with a dinner at Le Steel Pan for dinner with bright boho Caribbean decor.  Reservations are required to secure a table at this eclectic spot that oozes West Indian hospitality.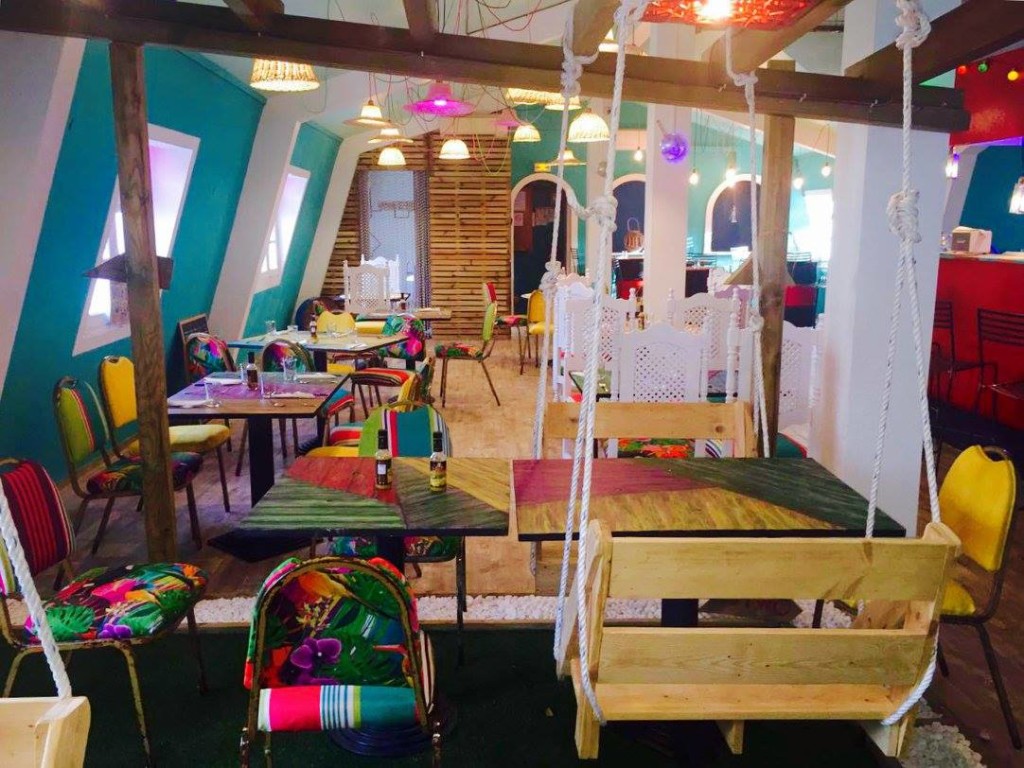 Plot your return journey to Martinique on the plane ride home, it'll soften the blow of leaving Martinique for the real world.