There are those of us whose biggest travel worry involves a missed connection, over packing, lost luggage or an unfavorable exchange rate. However, there is an entirely different set of adventure travelers whose family members cringe when they announce that they have booked a trip to a select port of call.  These destination may be associated with a high crime rate, rogue terrorist activity, drug cartels, and the like.  It is easy for experienced travelers to become complacent and shrug off safety concerns, viewing them as an issue with which only the least sophisticated travelers should be concerned.  Yet there are destinations that should give even the most intrepid traveler pause as certain areas are plagued with political instability, war, foreign-targeted kidnappings, terrorism and seemingly outdated issues such as cholera outbreaks and piracy.  Short of being a war correspondent, freedom fighter, or UN Aid worker most of us will avoid the most dangerous destinations, but for those who like to travel to fringe destinations, as Benny Franklin liked to say, an ounce of prevention is worth a pound of cure.   Having a plan of attack will help you stay safe.
Arm Yourself with Knowledge: Set a google news alert for articles about the places you plan to visit and read the local English newspapers for any pertinent information related to your travel destination.  Other good resources include the U.S. State Department's country specific database.  The British, Australian, and Canadian counterparts are also good sources to cross-reference as are local embassies and consulates, expat blogs, and tourist bureaus.  Make sure that you focus on the specific region within a country you plan to visit, particularly if you are traveling to a large country.
Ask Locals:  Talk to locals about what areas you should avoid.  New York City gets a bad rap abroad as being a dangerous city even though it ranks as the safest big city in the United States.   Although New York has cleaned up its act and is a safe destination, locals will happily advise you what parts of the city you should avoid.
Loose Lips Sinks Ships:  Remember that scene from Taken where a young handsome Frenchman starts chatting up two teenage girls at the airport and they blab to them where they're staying sans adult supervision?  Although you want to have as much interaction with locals as possible, keep your itinerary to yourself Chatty Cathy!  This includes where you're staying, with whom, when and where you plan to travel.  After all, you don't have Liam Neeson to come to your rescue!
Be a Hoarder: If there is a possibility of kidnappings, riots, or any other situation involving unrest which might cause you to be confined to your hotel room, stock up on food and water.
Insurance: Consider purchasing a policy designed for travelers that covers short-term health and emergency assistance as well as medical evacuation in the event of an accident or serious illness.  If you're traveling to a remote destination or to a place where medical care is inadequate, your domestic insurance may not cover a medical evacuation abroad. Additionally, find out before leaving home, what, if anything, your medical insurance will cover you when you're abroad. Questions that the State Department advises travelers to ask their health insurance provider include:
Does my policy cover emergency expenses abroad such as returning me to the United States for treatment if I become seriously ill?
Does this insurance cover high-risk activities such as parasailing, mountain climbing, scuba diving and off-roading?
Does this policy cover pre-existing conditions?
Does the insurance company require pre-authorizations or second opinions before emergency treatment can begin?
Does the insurance company guarantee medical payments abroad?
Will the insurance company pay foreign hospitals and foreign doctors directly?
Does the insurance company have a 24-hour physician-backed support center?
There's an App for That: Notify your country's nearest embassy or consulate of your travel itinerary, including where you will be staying. American citizens are encouraged to take advantage of the Department of State's Smart Traveler Enrollment Program (STEP) or with the nearest U.S. embassy or consulate.  STEP also offers a smartphone app that allows users to access country specific information and the most recent safety and security updates during your trip.  Familiarize yourself with where your country's nearest Embassy, Consulates, and foreign military base are and how you would get there in an emergency.
Wish You Were Here: Send a daily email to someone back home who can serve as your point contact and who will know where you are and what your travel plans are.  You can also update your facebook status daily.  It is also a good idea to invest in an unlocked world phone and to purchase a local SIM card so you have a mobile phone, should the need arise and Skype isn't an available option.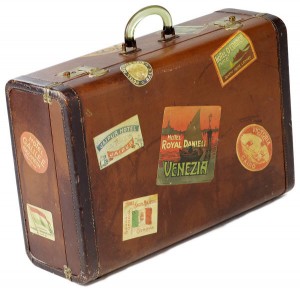 Have an Exit Strategy: If you are in a region that is experiencing political unrest, terrorist attacks or even severe weather such as a tsunami or hurricane, have a plan for what to do if something goes wrong.  In the event of a government-assisted evacuation, the U.S. government will not foot the bill, though it will provide its citizens with a loan.   It may be wise to invest in an evacuation membership like the ones offered by Global Rescue, a company which promises to evacuate its members in the event of "war, civil unrest, natural disasters, or other causes."
Know When to Fold 'Em: You may have your heart set on a specific destination, but if tourists are being singled out and targeted for kidnappings and terrorist activities, it may be wise to file the destination away on the Bucket List.
The whole point of your trip is to have fun and to interact with locals as much as possible and chances are that nothing will happen on your trip.  Your chances of having a safe and fun trip with lasting memories increase exponentially if you are adequately prepared for unexpected bumps along the way.
About The Author
Meleena
Having been introduced to travel at a young age, Meleena is an avid traveler with passport stamps from 99 countries on seven continents. A traveler, not a tourist, she believes in experiencing a destination like a local. Her global contacts provide her with the resources to have an insider's vantage point of the places she visits. She can often be found soaking up the local culture, indulging in regional food, wine, and spirits, and dancing the night away at the latest hot spot. She's tangoed in Buenos Aires, crawled into the belly of the pyramids in Giza, cuddled with Koalas in Australia, gone on safari in South Africa, hiked part of the Silk Road in Samarkand, and learned to surf in Barbados. Meleena prefers to visit destinations overlooked by the mainstream traveler. Meleena is a New York based freelance travel writer. Favorite destinations include Sydney, Buenos Aires, Cape Town, Reykjavik, and Paris, though Meleena hopes that her favorite destination is the destination she has yet to discover. As a certified scuba diver, she is on a quest to discover the world's best dive sites. Meleena has flirted with German and Mandarin. She speaks English, French and Spanish.